Madrid experiences its heaviest snowfall in 50 years
— 2 minute read — By Will Jones
Madrid was paralysed in mid-January as Storm Filomena blanketed the city and surrounding regions in over a foot and a half of snow. The snow fell consistently over 2-day period, bringing the capital to a standstill. It is the most snow the city has seen since 1971, according to the Spanish national weather agency.
In southern Spain and the Canary Islands, the storm battered villages and coastal settlements with heavy rainfall and strong gusts. Speaking on Saturday 9th, the Spanish transport minister, José Luis Ábalos, concluded that Storm Filomena had "exceeded the most pessimistic forecasts we had."
The focus, however, remained firmly on the unprecedented scenes in the capital. Despite being placed on red alert on Friday, the provinces of Madrid, Cuenca, Albacete and Toledo, were largely crippled by the storm. It also marked the first time that the highest level of weather warning has been deployed in these central Spanish regions since the system's introduction in 2007. Strong blizzards suspended almost all transport services: rail services were cancelled, and Madrid-Barajas Airport was forced into closure. 12,500 miles of roads were closed or suffered serious disruption, prompting a large-scale emergency service response mission to recover the 2,500 people stuck in snowbound vehicles.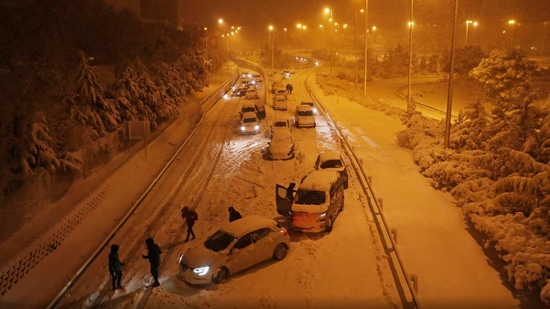 Storm Filomena tragically claimed the lives of four people. Two people died after being swept away in their car after a river in southern Spain burst its banks, a homeless man sadly succumbed to hypothermia in Zaragoza, and a man was frozen to death in the capital – illustrating the level of unpreparedness for extreme winter weather in Spain.
Some citizens, however, were able to make the most of the unusual weather event. A massive snowball fight erupted at the Gran Vía junction in Central Madrid despite government advice to stay home in-line with current coronavirus restrictions. Skiers and snowboarders turned out across the city attempting to replicate the alpine holidays that they have become accustomed to at this time of year.
There was worry about how the storm would affect Spain's coronavirus response, with extensive fears over whether distribution of the vaccine would be impacted. Spain's COVID-19 death toll of 59,000 is one of the most severe in Europe. Fortunately, Mr. Grande-Marlaska, the interior minister, was soon able to confirm that the vaccine had arrived safely and promised that the distribution would proceed "without incident". Scenes of doctors and nurses venturing through the snow circulated on social media and they were quickly praised for their "solidarity and dedication" by the country's health minister, Salvador Illa.
The deployment of soldiers to clear roadways and the arrival of 3,500 tonnes of salt enabled the capital's schools, colleges and universities to reopen by Wednesday 13th. Spain has since returned to normality – or relative normality during the pandemic. Judging by previous figures, it may be half a century before we see anything like this again.