The polarising popularity of Piers Morgan and the inception of GB News have the potential to bring impassioned and opinionated news streams to British shores
— 5 minute read — By Joe Clark and Will Jones
A match made in heaven?
By Joe Clark
Whether it is because of a controversial comment he has made on mainstream television or a tweet that has riled up anger and criticism on social media, Piers Morgan's actions have been at the forefront of the British public's focus over the last few months. Having worked for more than thirty years in the British and US media, at institutions including The Sun newspaper and CNN, it is not surprising that rumours have been circulating about Morgan's next steps following his departure from ITV's weekday morning show, Good Morning Britain.
The scrutiny and focus on Morgan has only been intensified by the controversy that surrounded this departure. Morgan left the show after he refused to apologise for the remarks he made about his lack of belief in Meghan Markle's claims that she had felt suicidal and experienced racism within the Royal Family. Now, there are strong rumours that his next job will be at British news channel GB News, set to launch later this year; many would argue that Morgan is the perfect candidate to be a presenter of this seemingly right-leaning, discussion-driven channel.
The public's perception of Piers Morgan is perhaps best summed up by a quote that makes up his Twitter bio, which goes: "One day you're the cock of the walk, the next a feather duster". Throughout his career in the media, he has been hated, adored, shunned and welcomed – often simultaneously. He is no stranger to controversial sagas – back in 2004 he was sacked as editor of the Daily Mirror after the paper was proven to have published forged photos of what people were led to believe were images of Iraqi prisoners being abused by British soldiers. He also still takes the brunt of criticism for the fact he was editor of this paper during the phone hacking scandal, even though he was never found guilty of having any personal involvement in this saga.
However, his seemingly matter of fact and unsentimental journalistic style has also earned him passionate plaudits. When this style is paired with the controversy which surrounds his character, he is able to attract large audiences, as evidenced by the rise in viewing figures from 600,000 to 1.7 million after he began presenting Good Morning Britain in 2015. His departure from this programme in early March, however, meant controversy surrounding him was only exacerbated. It seemed as though the remarks towards the Duchess of Sussex, and his departure from the show split the British public into two polarised groups; one who believed that he had shown an extreme lack of empathy towards an individual who had bravely spoken out about her experiences, and the other who believed that Morgan was correct to call Markle out for tarnishing the name of the monarchy. Clearly, Morgan is a figure who will continue to attract the attention of the British people when he is next given a job in the media, and perhaps his no-nonsense approach and polarising personality is exactly the type of presenter that fits the requirements of GB News.
The creators of GB News have stated that they want to construct a news environment that does not talk down on the UK – which they believe is often the case in the media. They state that they understand why the public are angry at Britain-bashing journalism, and instead want to provide news from a more patriotic perspective. This suggests that the channel will target viewers who consider themselves on the right-hand-side of the political spectrum.
Evidently, some individuals who see themselves as further left-wing are worried about the emergence of this particular channel. They have voiced their concerns that it undermines the notion that news should always be objective rather than being swayed by opinions and perspectives.
'Wokeness' is a term that is now used to describe individuals who predominantly identify as left-wing, and are seen as being overly-forceful and pedantic whilst in the pursuit of social justice. It can be inferred, therefore, from the fact that the channel will have a section called 'wokewatch', that it will strive to be controversial and divisive. Coincidentally, perhaps, Piers Morgan himself has been one of the proponents of the anti-woke movement, stating that wokeness would 'destroy the world' – yet further evidence that his views align with the fundamental aims of the minds behind GB News. It should be noted that Andrew Neil, the chairman and presenter of the channel, disclosed that the programmes it airs will be unbiased and impartial. However, it may be difficult to convince the left-wing of the truth of this statement, given that the channel will apparently aim to preach the importance of patriotism and call out the adherents of woke culture.
Neil has stated that GB News wants to hire presenters who will offer them 'a bit of an edge, a bit of attitude, a bit of personality'. Piers Morgan will certainly offer that. It wouldn't be a surprise to see him take up a job at a news channel that could potentially have a bias towards the perspectives he's exuded to audiences for years. Morgan's career so far has been heaped with controversy, helping him amass over 7.9 million Twitter followers. If GB News wants a presenter who will guarantee large viewing figures, have the capacity to spark fiery debates and bring character to their channel, it would be hard to look past Piers Morgan.
The shift to stance
By Will Jones
Piers Morgan and GB News characterise this shift to emotion-based news streams in the UK. For the first time, the British public will potentially be subjected to reporting from a particular stance that is packaged as 'news'. The UK has long prided itself on its vast array of non-biased news networks. The BBC is often seen as a beacon to the way the news should function. Here is a public funded broadcaster that, for the most part, communicates unadulterated fact to the people that pay to hear it – not that everyone wants to. It is situated in a media environment far away from the external influence of partisan donors and shouty, wow-you-simply-have-to-buy-this advertisements. The BBC is flanked by ITV News, Channel 4 News and Channel 5 News who, despite being privately-owned broadcasters, have historically retained their duty to the public sphere by providing impartial news coverage.
ITV's Good Morning Britain could be regarded as the first step in this move to more opinionated and emotive news streams. It first aired in April 2014 in response to the early morning viewing figure dominance of BBC Breakfast. After the acquisition of Piers Morgan in 2015, GMB became – at times – closer to a daytime chat show. The magazine format lent itself to heated and divisive debates on contentious issues. The outspoken Morgan was widely criticised on numerous occasions for making binary statements that were often deemed as offensive. No sooner had you woken up, than you were faced with a raging presenter arguing with a hair-dyed graduate about how many genders existed. Such statements were then cushioned with news bulletins, contextualising opinion within fact. The producers noted the success of this and booked guests that they knew would clash with Piers Morgan.
The media have a duty to be 'watchdogs' that hold the government to account for their actions; whilst Piers Morgan exemplified this during the COVID-19 pandemic, more often than not he showed signs that his real duty was to the cultivation of his own ego and popularity – something that soared with every stark claim or impassioned outburst.
It is only natural that other networks want to mirror the popularity of this format. Packaging emotion into a news context will prove fruitful for GB News.
Despite being a relatively new approach in the UK, this breed of news reporting is commonplace in the US. Fox News is a resoundingly popular cable and satellite news channel. Under the ownership and direction of Rupert Murdoch's News Corp – because who isn't – the outlet has frequently come under fire for perpetuating a conservative bias and being distinctly in favour of the Republican Party. They have also questioned science, misleading their audience on issues such as climate change and vaccinations. Once again, the problem resides with presenting preferential, and often bigoted, opinions as news.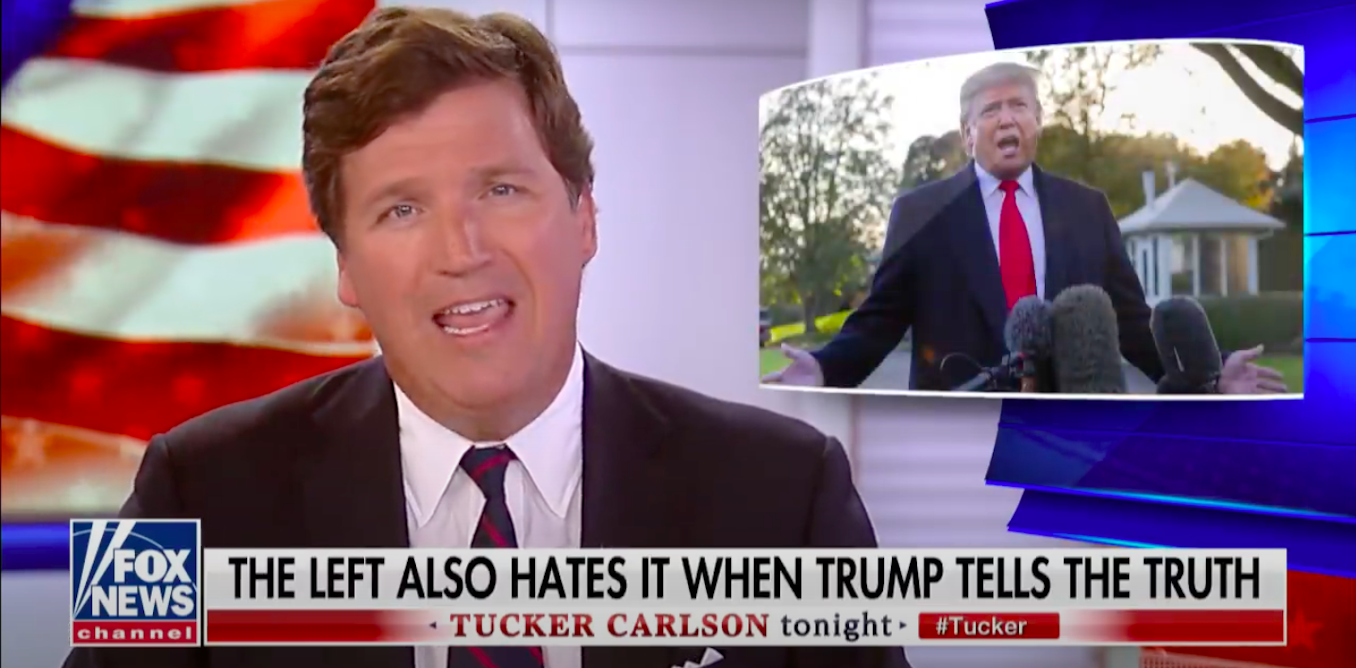 Herein lies the major discordance with tabloid television. On the one hand, these outlets are overwhelmingly popular – Fox News was one of the most visited news websites globally last year, recording 332m views by the culmination of the annum. In addition, right-wing outlets remained the fastest-growing news websites globally in December 2020, according to Press Gazette. However, on the other hand, by pursuing such a divisive approach that provokes a population in a potentially harmful way, they arguably abandon their journalistic duty to the people. The storming of the Capitol was inspired by Trump, yes, but the frenzy was partly whipped up by years of abrasive partisan coverage from Fox News. Free speech is a vital aspect to a functioning democracy where all stances are given equal emphasis, but not when the very same thing threatens the latter.
If the UK is to go in this same direction, the population must be wary that it will not be receiving the same impartial (argue this one out amongst yourselves) coverage provided by the BBC and its private counterparts. For better or for worse, affective news streams will permeate further into the public sphere – and the people will either watch with impassioned amusement or with their head in their hands. Such is the nature of opinion.